Read: John 17:9-13
Keep them in your name. (v. 10)
Once each month I pray with our ministry's global leaders. I am struck by the contrast of their prayers with mine. So many of my prayers ask God to solve a personal challenge or health condition in my or someone's life. Of course, God cares about these things. But despite having many physical and personal challenges, the prayers of our global leaders nearly always focus on God's Word and mission being accomplished, no matter the challenge.
This is the essence of Jesus' prayer for the disciples. His first request is "keep them in your name" (v. 10). To be "kept in the name" of the Father is to be intimately aligned with his character and mission, to be known as his possession and live in his likeness. Earlier that night Jesus instructed them to "abide in me, and I in you" (John 15:4). The disciples' abiding and the Father's keeping reveal Jesus' desire that we experience the same closeness with the Father that he enjoyed from all eternity.
He makes this his prayer because of the fruit produced from our abiding and the Father's keeping. One fruit is that disciples will have unity: "that they may be one, even as we are one" (17:11). Another fruit is joy: "that they may have my joy" (v. 13). What kind of joy does Jesus have? A joy that perseveres through whatever challenge comes: "who for the joy that was set before him endured the cross" (Heb. 12:2). Oh, to have persevering joy like Jesus! —Jon Opgenorth
As you pray, ask God to keep you in his name.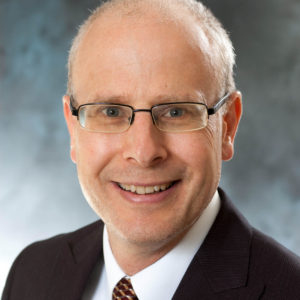 Rev. Jon Opgenorth serves as president of Words of Hope. Previously, he served for 18 years as senior pastor at Trinity Reformed Church in Orange City, Iowa. In preparation for ministry, he received a BA in Religion from Northwestern College, and an MDiv from Fuller Theological Seminary.