Through radio programs of all types, from music, to Bible studies, to counseling, Words of Hope Uganda is claiming all assets of Ugandan society and culture for Christ.
Uganda is a hard place. Though Christianity is popular in this country, extreme poverty and lack of education make it nearly impossible for churches to adequately disciple those who are coming to know Jesus. Words of Hope's Ugandan Director explains that while many are born into the faith, they often starve spiritually because no support structure is in place for their growth. Nominal Christianity is common. In fact, many Ugandans who self-identify as Christians simply know that they are not Muslim.
Lack of proper education and discipleship allows Ugandans to be swept up into false wealth-gospel belief systems. Many also mix older tribal religions with Christianity in their search for truth. With the support of generous donors, Words of Hope's is empowering Ugandan pastors and churches to effectively nurture their people in the life of Christian discipleship. In the midst of this hard place, radio is bringing truly life-changing good news.
"Since you began this program, we feel that we learn more about God than before. These other preachers just tell us how to get what we want, but you have given us what we need to know so that we can grow.
Pray for listeners to be transformed by the gospel programming.

Pray that every new believer will be connected to a local discipleship group.

Pray for steady electricity in the remote regions where we do ministry.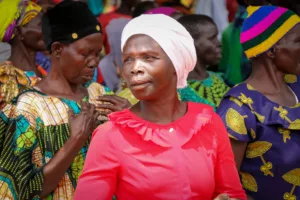 Stories of Hope
One of the programs that your donations to Words of Hope support is in the country of Uganda. As listeners there responded to radio, YouTube, and TV programming, it became