Read: John 17:14-16
Keep them from the evil one. (v. 15)
What troubles you today? What challenge threatens to shipwreck your faith? Just before his prayer, Jesus promised the disciples something: "In the world you will have tribulation" (John 16:33). As a pastor, I have sat with many people through the tribulation of a diagnosis, the trauma of sudden loss, and circumstances too deep to imagine and too dark to see through. Jesus made sure the disciples knew what was in store. Following Jesus is no guarantee of an easy life until the victory of heaven.
Yet when he prays to the Father, he does not ask that trouble or challenge be removed, or for the disciples to be removed from the trouble: "I do not ask that you take them out of the world." Rather, Jesus only asks that the Father "keep them from the evil one" (v. 15), even as he knows troubles will come. Because our Lord is right now seated at the Father's right hand (Mark 16:19), we can be confident the Father still hears that prayer.
If the Father keeps us, evil will not triumph over us. The God Jesus calls "Father" is the same God who preserved Noah through the flood (Genesis 7), who brought the Israelites through the Red Sea (Exodus 14), who promised his people, "When you pass through the waters, I will be with you" (Isa. 43:2). And in Jesus, he speaks to you and me: "Take heart; I have overcome the world" (John 16:33). —Jon Opgenorth
As you pray, ask God to keep you from the evil one.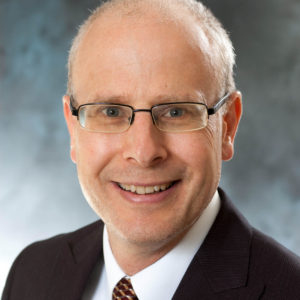 Rev. Jon Opgenorth serves as president of Words of Hope. Previously, he served for 18 years as senior pastor at Trinity Reformed Church in Orange City, Iowa. In preparation for ministry, he received a BA in Religion from Northwestern College, and an MDiv from Fuller Theological Seminary.