Read: Matthew 25:31-46
He will sit on his glorious throne. (v. 31)
In Matthew 25, Jesus begins with two parables about the final judgment. In today's text, he speaks with clarity about what will actually happen. Reading this gives me the same feeling as receiving an audit letter from the IRS! Even as it makes me uncomfortable, in this reading we get to the very heart of the Christian faith.
Whatever the end is like, notice first that it will be glorious. Verse 31 says Jesus will come in "his glory" and sit on a "glorious throne." That glory will be without comparison, majestic beyond imagination, beautiful beyond words. The Nicene Creed affirms, "He will come again in glory to judge the living and the dead." And our King will judge. Every one of us will give an account. We don't like to hear much about judgment, but it's a consistent teaching throughout Scripture. It cannot be avoided.
As people are separated like sheep and goats, we'll likely be surprised. Some we assume are saved end up condemned. Others we thought beyond hope receive eternal life. The King's accounting measures our treatment of the King as seen in "the least of these" (vv. 40, 45). We must be careful, however, not to see our acts of compassion as earning salvation, but rather the fruit of walking with King Jesus. Theologian Michael Green gives a good summary: "The heart of Christianity is relationship with Jesus himself, which shows itself in loving, sacrificial care for others." May we do so more and more. —Jon Opgenorth
As you pray, ask Jesus to help you see him in others.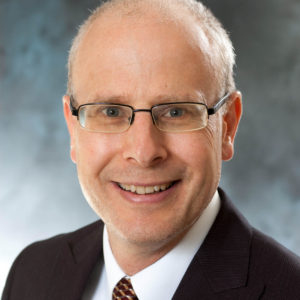 Rev. Jon Opgenorth serves as president of Words of Hope. Previously, he served for 18 years as senior pastor at Trinity Reformed Church in Orange City, Iowa. In preparation for ministry, he received a BA in Religion from Northwestern College, and an MDiv from Fuller Theological Seminary.