Read: John 20:1-18
I am the resurrection and the life. (John 11:25)
I bought a lily this Easter to remember Art, one of the many people who died from Covid-19 in the last two years. Art's death brought a grief that only Jesus' resurrection could bring me through. Many years ago, Art welcomed my family to town with a smile that warmed this young pastor with four children. He functioned as a sort of town greeter in the store he managed. As an elder, he led with the fierce joy of a devoted shepherd. When he neared his end in the hospital, he asked to FaceTime with me once more. Thirty minutes before he died, we looked each other in the eye. We shared a few memories, our mutual love, and the hope of heaven. I wept inconsolably.
I imagine that's how Mary wept in John 20:11. She had seen Jesus breathe his last. Now, unable to make sense of his missing body, she wept. As I remember Art, I begin to sense what she felt in that moment. I also imagine what she felt when she heard Jesus say her name, "Mary" (v. 16): exuberant joy, running feet, and exclamatory witness, "I have seen the Lord" (v. 18). Jesus' resurrection means death is dead. The grave is defeated. Hell is vanquished. Sin atoned for. The presence of the Lord forever and ever. Unfading joy!
Our grief is real—it may be deep and even last longer than we'd like—but Easter is our guarantee that we do not "grieve as others do who have no hope" (1 Thess. 4:13). Christ is risen. He is risen indeed! —Jon Opgenorth
As you pray, bring your grief to the empty tomb.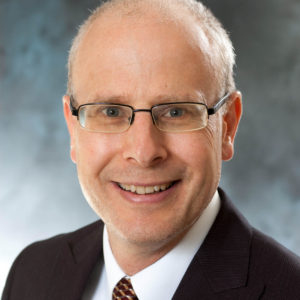 Rev. Jon Opgenorth serves as president of Words of Hope. Previously, he served for 18 years as senior pastor at Trinity Reformed Church in Orange City, Iowa. In preparation for ministry, he received a BA in Religion from Northwestern College, and an MDiv from Fuller Theological Seminary.