Read: 1 Peter 1:13-21
Your faith and hope are in God. (v. 21)
I was never much for fishing but did enjoy going out on Lake Michigan with my friend Todd after a day of school. My presence allowed him two extra lines in the water. When a line near me twitched with a bite he'd yell, "Set the hook! Set the hook!" He didn't want the "big one" to get away, so I'd grab the pole and yank as hard as I could. Once the hook was set, we could patiently reel in the fish no matter how long it took.
Life is often tossed by winds of uncertainty and trials. In verses 1-12, Peter told believers that God chose them for a future inheritance in heaven. And Peter promised they would suffer trials. Yet he called them to a life of obedience and holiness on the journey (vv. 14-16). When life swells with uncertainty, how do we persevere in obedience?
Verse 13 is Peter's yelling, "Set your hope! Set your hope!" That is, don't just nibble at the hope of heaven. Fully embrace and pull on that hope. Reel your life towards it. The phrase "preparing your minds for action" is literally translated as "gird up the loins of your mind" (KJV). The Christian life is not a stroll in the park. It invites our active participation in God's eternal kingdom. With our hope fully set, we can patiently endure the trials that come because we have a Father who redeemed us "with the precious blood of Christ" (v. 19). —Jon Opgenorth
As you pray, set your hope fully on God's grace.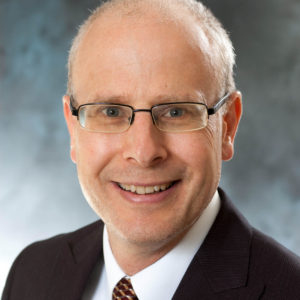 Rev. Jon Opgenorth serves as president of Words of Hope. Previously, he served for 18 years as senior pastor at Trinity Reformed Church in Orange City, Iowa. In preparation for ministry, he received a BA in Religion from Northwestern College, and an MDiv from Fuller Theological Seminary.