Read: Psalm 92
But the godly will flourish like palm trees . . . For they are transplanted to the LORD's own house. (vv. 12-13 NLT)
Over the years, I've gotten a kick out of those bumper stickers that mimic Colorado's license tag and proclaim "NATIVE" or "TRANSPLANT" or more boldly "NO VACANCY"—all statements about the many people moving to that state recently. Before you object, let me say people who are transplants often have a new level of appreciation for a place. In today's reading, I love the promise of flourishing as a transplant, of remaining vital and green (v. 14), and speaking truth with ever more ease and clarity (v. 15). Unlike a state weary of newcomers, God won't proclaim, "No vacancy," if we desire to be moved to his garden.
You and I might have been planted in the soil of this world, and we might have grown up surrounded by weeds, but this passage promises that as believers we were transplanted to the Lord's own house by the Master Gardener. There, we don't just grow strong, we flourish. I love that word.
The gardens surrounding God's courts are verdant, well-watered, pruned, and tended. Year after blessed year, fruitfulness is the legacy of the transplants. So, take a moment to enjoy the view and the fruit of your life in Christ. And every now and again, turn your eyes to the distant and eternal horizon. Pinch yourself—this is where you live and flourish. Forever. —Amy Clemens
As you pray, thank God for being transplanted to an eternally beautiful garden and for his words of fruitfulness and flourishing over you.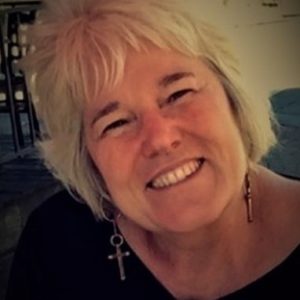 With a bachelors in journalism from Texas Tech University and a masters from Western Theological Seminary, Amy Clemens enjoys all things writing, particularly about the life of faith. She is blessed with a family that includes husband Fred, five children, and five grandchildren.
Amy has just published her first book, "Walking When You'd Rather Fly: Meditations on Faith After the Fall," which weaves her journey from childhood abuse toward healing and spiritual growth with a practical theology for the big story of God. You can find out more about the book and author at walkingwhenyoudratherfly.com.