Read: John 15:1-5
Whoever abides in me and I in him, he it is that bears much fruit, for apart from me you can do nothing. (v. 5)
Fruitfulness is something I think about a lot, although I sometimes call it something different, like productivity or impact. Life feels short and it's tempting to get ahead of God, squeezing life like a grape in a winepress. There's only so much you can get out of it, however much flavor you know is still in that leftover purple pulp.
Jesus makes a promise that restores my right-thinking after I try so hard to press for fruitfulness, and all that's left is skins, seeds, and maybe a little sticky pulp. Remaining connected to the source of everything good, productive, impactful, and fruitful—the vine—is the only way to the life I desire. I need to stop putting effort into squeezing every possible drop out of life and instead use my passion to strengthen the bond between branch and vine. The gardener will take care of fruitfulness—but the first rule of his green thumb is that branches off the vine won't be growing anything. They'll be headed for the bonfire out back of the vineyard (v. 6).
How sad if I give all my attention to the fruit, squeezing and pressing until I notice the grapes are gone and my branch is empty. Fruitfulness comes from clinging to the vine, the only source of all good fruit. —Amy Clemens
As you pray, ask God to help you abide, making you more comfortable with the truth that you can't make fruit on your own or do anything apart from Jesus, the vine.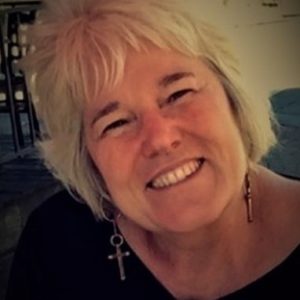 With a bachelors in journalism from Texas Tech University and a masters from Western Theological Seminary, Amy Clemens enjoys all things writing, particularly about the life of faith. She is blessed with a family that includes husband Fred, five children, and five grandchildren.
Amy has just published her first book, "Walking When You'd Rather Fly: Meditations on Faith After the Fall," which weaves her journey from childhood abuse toward healing and spiritual growth with a practical theology for the big story of God. You can find out more about the book and author at walkingwhenyoudratherfly.com.