Read: Exodus 13:17-22
And the LORD went before them by day in a pillar of cloud to lead them along the way, and by night in a pillar of fire to give them light, that they might travel by day and by night. (v. 21)
Somehow, I missed the fact that God gave his people a pillar of fire by night so they could travel some more after walking all day. My childish fantasy was that it protected those tired-but-freed slaves, allowing them to eat and sleep in peace—kind of like a giant nightlight. But, just like entry into the Promised Land was not a swan dive into milk and honey, this fire in the dark wasn't protection so the people of God could sleep; it was light so they could see the rocky path leading to a sea they could not cross in their own power.
Such it is with our lives. We often expect faith to provide a soft place to land. After accepting the free gifts of salvation and God's unconditional love, we may believe that the journey home is no more than saying yes to what we didn't have to pay for.
Fire in the dark may not be an invitation to stop, have a barbeque, and curl up in my sleeping bag. If I want to move ahead into God's promises, I must stay on the journey. I must love the freedom God provides enough to pursue it day and night. —Amy Clemens
As you pray, thank God for fire in the dark, shedding light on a path you can walk with courage and gratitude, however impossible it may seem.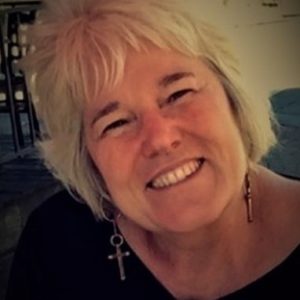 With a bachelors in journalism from Texas Tech University and a masters from Western Theological Seminary, Amy Clemens enjoys all things writing, particularly about the life of faith. She is blessed with a family that includes husband Fred, five children, and five grandchildren.
Amy has just published her first book, "Walking When You'd Rather Fly: Meditations on Faith After the Fall," which weaves her journey from childhood abuse toward healing and spiritual growth with a practical theology for the big story of God. You can find out more about the book and author at walkingwhenyoudratherfly.com.