Read: Hebrews 13:1-6
Do not neglect to show hospitality to strangers, for thereby some have entertained angels unawares. (v. 2)
Strangers can be strange, and we might not choose them as friends. But one element of hospitality is this: hospitality accepts differences. The host doesn't ask the guest to change. Indeed, part of being a good host is a willingness to be changed by your interaction with the stranger. I know, this is difficult. But hospitality accepts differences. Welcomes them, even.
Look at it this way: in welcoming a stranger you are welcoming Christ himself, who said that whatever hospitality we show to one of "the least of these" (Matt. 25:40), we show it to him. "I was a stranger," said Jesus, "and you welcomed me" (v. 35). We have been shown the ultimate act of hospitality by God who, while we were yet sinners and strangers to God's holiness, sent his Son to die for us that we might be welcomed into his family. One way we can respond to God's hospitality is to show hospitality to others.
Have you ever been a stranger? Maybe you've walked into a situation where everyone knew one another, but you didn't know anybody. Perhaps you felt like everyone knew the unspoken rules—except you. You felt powerless and vulnerable. But then one person stepped up, smiled, welcomed you, and showed real interest in you. Remember how good that felt? Give someone that feeling. Welcome a stranger. —Lou Lotz
Today's Activity: Welcome someone new with a small homemade gift or treat. Consider a new neighbor, or someone that you don't know yet at church, school, or work.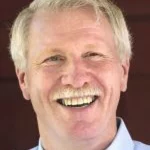 Rev. Lou Lotz is a recently retired Reformed Church pastor. Lou and his wife Mary Jean live in Hudsonville, Michigan.