Read: Isaiah 11:1-9
The wolf shall dwell with the lamb, and the leopard shall lie down with the young goat, and the calf and the lion and the fattened calf together; and a little child shall lead them. (v. 6)
What does God have in store for this fallen world? When God's kingdom has fully come, when "the creation itself will be set free from its bondage to corruption" (Rom. 8:21), what will that look like? Isaiah's remarkable prophecy envisions a future time in which peace will envelop all of creation, and even natural conflict between predator and prey will be resolved. This peaceable kingdom will be so tame and gentle that even the most ferocious animals will submit to the leading of a little child.
"Glory to God in the highest," the angels said, "and on earth peace among those with whom he is pleased!" (Luke 2:14) Why is there so little peace in the world? Maybe the problem is that we've tried to split the angelic message in two. We want peace in our hearts, and peace on earth, but we don't want to give glory to God. So long as nations seek glory for themselves, glory that rightly belongs to God, there will be no peace on earth. And so long as you and I seek glory for ourselves, the glory that rightly belongs to God, there will be no peace for us.
Pray for peace, and to God be the glory. —Lou Lotz
Today's Activity: Pray for peace in your life, in your community, in your country, and in our world. Give God the glory for the peace you experience.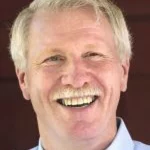 Rev. Lou Lotz is a recently retired Reformed Church pastor. Lou and his wife Mary Jean live in Hudsonville, Michigan.