Read: 1 Corinthians 1:1-3
To the church of God that is in Corinth, to those sanctified in Christ Jesus, called to be saints. (v. 2)
What is a saint? When we declare, in the Apostles' Creed, that we believe in the "communion of saints," who are we talking about? Especially virtuous and long-suffering people? Martyrs and missionaries who suffered for their faith? Persons of exceptional piety and devotion canonized by church councils? I remember the girl in our church youth group who said that a saint was "someone you look up to and admire, but you wouldn't want to date." What is a saint?
Sainthood, as portrayed in the New Testament, applies to all who are Christians. Saints are the people of God. If you are a believer, a follower of Christ, you are a saint. You say: "Me? But I'm such a sinner." Of course you are, but we are saints not because of any personal righteousness, but because of the unfathomable grace of God. God chose you, not the other way around. As for personal righteousness, you would be hard-pressed to name a doctrinal error or a moral failing that the Corinthian church didn't possess. Yet Paul began his letter by saying that the Corinthians were "called to be saints."
Christian friend, however lowly and humble you may consider yourself to be, whatever your sins and struggles, you are a saint, sanctified and set apart, chosen by God to help fulfill God's purpose in the world. How will you live out your sainthood today? —Lou Lotz
As you pray, ponder how you are being called to live out your sainthood.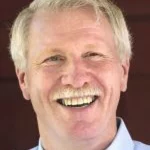 Rev. Lou Lotz is a recently retired Reformed Church pastor. Lou and his wife Mary Jean live in Hudsonville, Michigan.