Read: Matthew 6:25-34
Look at the birds of the air; they do not sow or reap or store away in barns, and yet your heavenly Father feeds them. Are you not much more valuable than they? (v. 26 NIV)
What does it take to be content? We live in a world of trials and tribulations, and as a result we find ourselves worrying. However, Jesus does not want us overly troubled with things that are not of ultimate value to God, for he has instructed us to cast our anxieties on him because he cares (1 Peter 5:7).
Jesus wants us to understand that his Father is the all-sufficient God; he is enough for you! Worrying does not solve anything (Matt. 6:27). It can instead turn into dissatisfaction and complaining against the Lord. The command is simple: "Do not worry about your life" (v. 25). But obeying can be difficult. Running after whatever pleasures and goods people chase for satisfaction and security is exhausting. But Jesus redirects us: "Seek first his kingdom and his righteousness, and all these things will be given to you as well" (v. 33). That's his promise to provide what we really need.
God has affirmed the great value he places on us. That is how he sees us. So in response, we should pursue him and his kingdom and let him worry about how our day-to-day necessities will fall into place. He has assumed the role of provider, advocate, comforter, and help in time of trouble. Will you trust his promises? —Keziah Namusaazi (Manager of Production and Broadcast, Words of Hope Uganda)
As you pray, thank God for his provision and ask him to help you find rest in this truth.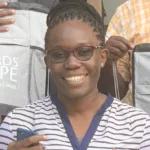 Keziah Namusaazi is the Manager of Production and Broadcast for Words of Hope Uganda.