Read: Psalm 78:1-7; Mark 5:1-20
We will not hide them from their descendants; we will tell the next generation the praiseworthy deeds of the LORD, his power, and the wonders he has done. (Ps. 78:4)
This psalm is a citation of the sin of Israel, how it aggravated God, and how he had expressed his anger over their sin through correction. However, it also alludes to God's great mercies over his people Israel. The psalmist remembered and recounted what God had done for Israel in spite of what they had done against him. Asaph encouraged Israel to testify, to tell the praiseworthy deeds of the mercies of God over their lives: "We will . . . tell . . . the glorious deeds of the LORD" (v. 4). Not with a purpose of continually feeling guilty, but to affirm God's undeserved redemption.
We are not so different. Like Israel, we have all sinned, and like Israel, God has both been aggravated and corrected us too—through the Bible, and through other believers. But God's mercy is there for us, too, through the blood of Jesus Christ.
The psalm ends with God's choice of "David his servant . . . to shepherd Jacob his people" (vv. 70-71). God's people have a long history of wandering, and perhaps you do too, but God's shepherd-king Jesus has come to save us from our sins. Let's set our hope in him and remember all he's done for us (Ps. 78:7). —Keziah Namusaazi (Manager of Production and Broadcast, Words of Hope Uganda)
As you pray, ask God to give you courage and boldness to keep speaking of his greatness and mercy towards you, so that in your freedom others will be freed too.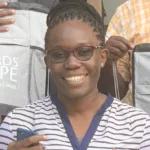 Keziah Namusaazi is the Manager of Production and Broadcast for Words of Hope Uganda.