Read: Romans 8:26-39
What then shall we say to these things? If God is for us, who can be against us? (v. 31)
Every one of us has faced one thing or more that have left us gripped by shame. Maybe you have lived a life of self-scorn, insecurities, and fear; shame holds you down with self-condemnation, dissatisfaction, and judgment because of the terrifying memories of the past.
The only thing that will bring us peace in the midst of it all is Jesus. In his very long letter to the believers living in Rome, the apostle Paul asked, "Who shall bring any charge against God's elect? It is God who justifies" (v. 33). Jesus endured loss and shame but never abandoned the mission. The freedom of the resurrection life of Jesus Christ liberates us from the burden of shame in our lives. We can now live freely because Christ lives in us (Gal. 2:20).
Learning to live in recognition and assurance of this new identity takes some time, but as you work through the process, always remember that God is on your side. Paul asks the question emphatically: "If God is for us, who can be against us?" (Rom. 8:31). The answer? Summarizing verses 35-39 in two words: No one! Our Father wants you to live a full life of understanding who you are as a child of God. Claim the promise that your past shame has no power over you! —Keziah Namusaazi (Manager of Production and Broadcast, Words of Hope Uganda)
As you pray, ask God to help you live each day in the faith of the truth of his Word: you no longer live, but it is Christ who lives in you.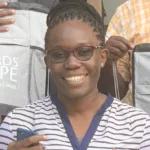 Keziah Namusaazi is the Manager of Production and Broadcast for Words of Hope Uganda.