Read: Galatians 5:8-12
I am confident in the Lord that you will take no other view. The one who is throwing you into confusion, whoever that may be, will have to pay the penalty. (v. 10 NIV)
Have you ever been trusted by a person in authority concerning what you are, what you speak, and what you believe and do (your character, your words, and your beliefs, values, and actions)? Or perhaps you have had times when you have been doubted in your faith by your pastor or fellow believers? Paul expressed his trust in the believers in the Galatian churches even though they had been falsely indoctrinated by the agitating Judaizers of the day (v. 10).
In today's reading, we see how Paul trusted that the Galatian believers would not be shaken by any kind of false teaching. He also said that God was going to judge those who confused the believers with wrong teachings packed with empty promises which aimed at enslaving them and making them spiritually stunted in their journey of faith.
Paul clearly pointed out that those false teachers were troublemakers. (vv. 11-12). Do we still have some people who feel offended at the cross when the true gospel of salvation is preached? Let us pray for such people. In Christ we become brothers and sisters—not enslaved brothers and sisters but freed brothers and sisters in Christ. —Rev. Dr. Steven Kaziimba (Board Chairman, Words of Hope Uganda, Archbishop of the Church of Uganda)
As you pray, ask God to help you continue to trust and be trusted by God in whatever you do, even when there is no one watching.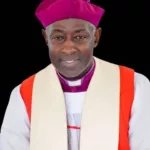 Rev. Dr. Steven Kaziimba is the board chairman for Words of Hope Uganda, and is also Archbishop of the Church of Uganda.