Read: Galatians 5:7
You were running a good race. Who cut in on you to keep you from obeying the truth? (v. 7 NIV)
Have you encountered anything that is a stumbling block to your faith? Or do you know of anybody who has a wavering faith? In Galatians 5:7, Paul poses a challenging question to the churches in Galatia about what went wrong with the believers who were diverted from the gospel. Paul uses an analogy to help us understand—our journey of faith in God is like running a race.
This race requires the runner to keep focused and running straight towards the goal or the finishing line. Wrong teachings had already cropped up in the churches, and many other social and spiritual challenges were a stumbling block to their faith in God. These teachings were tripping the believers, distracting them, and preventing them from running their race of faith.
What is distracting you from your race of faith? As you answer Paul's challenging question, consider what Christ is calling you towards. In the book of Hebrews, the writer offers similar encouragement to early believers, and to you: "Therefore, since we are surrounded by so great a cloud of witnesses, let us also lay aside every weight, and sin which clings so closely, and let us run with endurance the race that is set before us, looking to Jesus, the founder and perfecter of our faith" (Heb. 12:1-2 NIV). —Rev. Dr. Steven Kaziimba (Board Chairman, Words of Hope Uganda, Archbishop of the Church of Uganda)
As you pray, ask for help to remain focused on Jesus alone.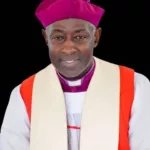 Rev. Dr. Steven Kaziimba is the board chairman for Words of Hope Uganda, and is also Archbishop of the Church of Uganda.