Read: Galatians 5:3-6
Again I declare to every man who lets himself be circumcised that he is obligated to obey the whole law. You who are trying to be justified by the law have been alienated from Christ; you have fallen away from grace. (vv. 3-4 NIV)
The Jewish believers in Jesus thought that circumcision would put them right with God and win them favor before him. Circumcision was a compulsory ritual required by the law of Moses. Unfortunately, it could not bring them any closer to God.
Following the law was an outward act of faith. It did not establish or maintain friendship with God. The apostle Paul even says that focusing on these compulsory rituals separates believers from Christ—relying on the law, instead of on Christ's sacrifice (vv. 3-4). In the end, it didn't help them get closer to God. Instead, it harmed their faith.
Note this: where there is a compulsory force to obey, there is no love and no peace, and to crown it all, no freedom at all and no forgiveness. Are you struggling to make yourself right in your life? Do you feel enticed or forced to perform your faith to justify yourself, so that all may go well with you and others near you? Accept the free offer of justification by God through trusting Jesus Christ our Savior. Let Christ's work begin in your heart (vv. 5-6). —Rev. Dr. Steven Kaziimba (Board Chairman, Words of Hope Uganda, Archbishop of the Church of Uganda)
As you pray, reflect on this gift of salvation through Jesus Christ which demands no price because Christ paid it all at the cross for you.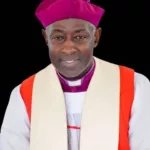 Rev. Dr. Steven Kaziimba is the board chairman for Words of Hope Uganda, and is also Archbishop of the Church of Uganda.