Read: John 14:1-11
Jesus said to him, "I am the way, and the truth, and the life. No one comes to the Father except through me." (v. 6)
Every Thanksgiving my family would watch The Wizard of Oz on TV. I loved the movie, especially the scene with the Munchkins singing to Dorothy, "Follow the yellow brick road." The road led to Oz, the Emerald City, where the wizard lived who could hopefully help her find her way back home to her loved ones.
Sometimes, it feels hopeless to find our way to God's steadfast love. Physical frailties, pressures of this life, and tragedies across the globe all seem to say that God's steadfast love is nothing but a rainbow-colored dream quickly vaporized in the harsh reality of this shades-of-gray world.
But there's a way. We can follow the red-lettered road—the words of Jesus—to find and embrace the steadfast love of God. In today's reading, Jesus said, "I am the way, and the truth, and the life. No one comes to the Father except through me" (v. 6). This red-lettered road leads to something far grander than the Emerald City with a man behind a curtain impressing people with magic tricks. This road leads to genuine steadfast love and truth in this life. And we can look forward to eternity in our new home—the New Jerusalem with living water, the tree of life, and communing face to face with God. Come home to the Father today; there's no place like home. —Donna Harold
As you pray, follow the red-lettered road of the words of Jesus to find your way home to the steadfast love of the Father.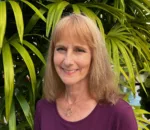 Donna M. Harold is retired from a career in accounting and consulting and lives in Tampa, Florida, with her husband and two cats. She serves as treasurer for her church, facilitates Bible studies, and enjoys the creativity of writing, mosaicking, and quilting.