Read: 1 Corinthians 13
So now faith, hope, and love abide, these three; but the greatest of these is love. (v. 13)
I like the logic of math. The Transitive Property of Equality states that two things that are both equal to a third thing are equal to each other; also recognized as "If A = B and B = C, then A = C." This can be applied to non-mathematics (to some extent).
First John 4:8 proclaims that "God is love." That is the "A = B." First Corinthians 13 describes the characteristics of love. This is the "B = C." Applying the "A = C," we replace the word love with God. In other words, since our reading describes the characteristics of love, and if God is love, then these characteristics are God's characteristics.
God is patient and kind with us and waits for us to come to him with our needs and desires. He does not envy or boast; nor is he arrogant or rude. God's way is the one true way, but he lets us make our own choices. When those choices aren't in accordance with his will and we turn to him, he lovingly accepts us back. He is not irritable or resentful, no matter how many times we falter. He does not rejoice at wrongdoing but rejoices with us when we see the truth. God bears all things—all our sorrows and pain, and he has borne our sin and shame. He believes and hopes the best for us. He endures with us through all things. God's steadfast love for us never ends. —Donna Harold
As you pray, thank God that he is steadfast love.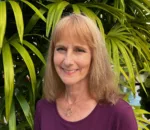 Donna M. Harold is retired from a career in accounting and consulting and lives in Tampa, Florida, with her husband and two cats. She serves as treasurer for her church, facilitates Bible studies, and enjoys the creativity of writing, mosaicking, and quilting.