Read: Psalm 36
Your steadfast love, O LORD, extends to the heavens, your faithfulness to the clouds. (v. 5)
A few years ago, my husband and I visited a planetarium in Bradenton, Florida. We sat in the darkened theater as the dome overhead brightened. First, we saw Bradenton, then zoomed out above the state of Florida, and then the continent. Speeding heavenward, the earth soon looked like a blue softball with our white, marble-sized moon nearby. Faster than the speed of light, we traveled further until our solar system was unrecognizable in the sea of solar systems in our galaxy. Then further still to the wonders of birthing stars, novas, and black holes.
How vast! How much is still unknown! I felt smaller than a pinprick. In Psalm 8, the psalmist marvels at the creation of the heavens, and concludes in wonder that God is mindful of us too—he has crowned us "with glory and honor" (v. 5). Psalm 36 describes God's steadfast love as bigger than the universe of galaxies (v. 5)—he pursues and woos our souls because he wants to intimately relate to each and every one of us. Amazing!
And, just like our universe, the more you seek to understand and know God's steadfast love for you, the more you realize how awesome and humongous it is. Like a scientist searching the heavens for new discoveries, you will also discover new truths about how precious you are to him. —Donna Harold
As you pray, be awed by God's humongous steadfast love for you and how precious you are to him in this vast universe.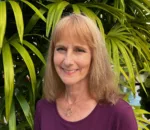 Donna M. Harold is retired from a career in accounting and consulting and lives in Tampa, Florida, with her husband and two cats. She serves as treasurer for her church, facilitates Bible studies, and enjoys the creativity of writing, mosaicking, and quilting.