Read: Matthew 26:36-46
My soul is very sorrowful, even to death. (v. 38)
The garden of Gethsemane scene may be familiar to you. One spring weekend, this story was no longer just a distant scene for me to imagine—I received a personal invitation into my own garden of grief when my first pregnancy ended in miscarriage. Though you may not have experienced infant loss firsthand, we all carry some degree of grief, whether unspoken or realized. Grief is a natural by-product of experiencing the pain of life in a sin-stained world.
How does the account of Jesus' experience in the garden of Gethsemane more than 2,000 years ago change the pain you carry today? First, it provides the undeniable reality that Jesus also experienced the grief of pain, loss, and hurt. Second, it gives us a front-row seat to witness one of Jesus' most sorrowful episodes. He described his soul feeling "very sorrowful, even to death" (v. 38). He then fell on his face to plead with God to take this cup of pain away from him (v. 39).
When I miscarried my baby, I was invited to my own garden of grief, where like Jesus, I pleaded with God to take the pain away. When faced with your worst nightmare of deep pain, it's common to enter a place like this. And what can be found in your personal garden of grief? Jesus—with a tear-stained face and the warm hug of a lifelong friend—waiting for you, suffering with you, and lamenting with you. —Rachel Lohman
As you pray, imagine Jesus kneeling beside you in your current garden of grief.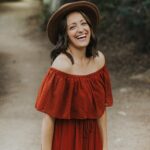 Rachel Lohman is the mom of two toddlers and founder of Hope Again Collective. She lives outside of Los Angeles where she helps lead a bilingual church, The Bridge Chino, alongside her husband, Mark.