Read: Acts 9:10-19
But the Lord said to him, "Go, for he is a chosen instrument of mine . . ." So Ananias departed. (vv. 15-17)
We drove on Communipaw Avenue, heading into the heart of the city. It was a bitter, rainy November day. Deep dread washed over me as I absorbed the signs of urban blight we saw everywhere. My husband and I were there to discern if God wanted us in this particular city to start our ministry. "I cannot do this Lord," I said silently. "No, you can't," he answered, "but I can. Is anything too hard for me?" After that conversation, I could say "Yes, Lord," to his call to go.
Ananias' conversation with Jesus wasn't going well. Jesus had just told Ananias to go find Saul—who was in Damascus to arrest Ananias and any other believers—and pray for him! Obedience meant arrest and likely death. What happened to Ananias, between verses 16 and 17, that enabled him to go?
Ananias loved Jesus and even reasoned with him in the middle of a vision! But most of all, Ananias knew Jesus as Lord. When Jesus said, "Go," the second time, he obeyed because he'd already said, "Yes, Lord, you can ask anything of me."
There were two "go" miracles in Damascus long ago. The first was what happened to Saul of Tarsus on that road. The second was what happened to Ananias, in the space between verses 16 and 17. —Linda R. Rubingh
As you pray, ask God to help you say, "Yes, Lord."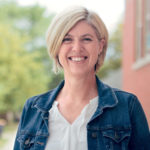 Linda R. Rubingh is a pastor, therapist, and writer with a passion for mission. She is the co-founder with her husband, Trevor, of New City Kids, and is completing her first children's book, I Love to Tell the Story: Stories of Meeting Jesus from Every Nation, Tribe and Tongue. Linda is a New Jersey native but now lives in Grand Rapids, Michigan with Trevor, their two children, and an overactive Siberian Husky.