Read: Matthew 28:16-20
Go therefore and make disciples of all nations. (v. 19)
From Genesis to Revelation, there is an ever-present call from God to "Go!" Abraham, Moses, Ruth, Esther, Daniel, Jonah, Mary, Paul, and uncountable others have all heard and heeded God's bidding to "go." And at the center of this "go" is Jesus, who left heaven on the greatest go-mission of all time, becoming flesh and blood in order to rescue us, the children he loves.
In the Gospels, Jesus himself was constantly "on the go," bringing the fullness of God's Jubilee, and teaching others to joyfully go and do the same. He instructed the woman who anointed his feet with oil and the centurion with the sick servant to "go." In parables, he revealed God's nature as one who sacrificially goes in search of a lost sheep, a lost coin, or a lost son. And in exquisite fulfillment of his go-mission, Jesus himself went to a cross to win our lives back for us.
Then—hallelujah!—after swallowing up death in victory, our resurrected Lord gave the "Go!" command to his disciples: "'Peace be with you. As the Father has sent me, even so I am sending you'" (John 20:21).
God's nature is "go." As God's people, we lose our core identity and purpose when we lose the habit of doing the same. But we're at our best, individually and together, as we receive the power of the Holy Spirit, and we go. —Linda R. Rubingh
As you pray, ask the Lord to fill you with the Holy Spirit and show you your next "Go!" assignment.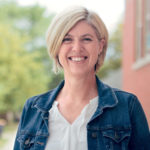 Linda R. Rubingh is a pastor, therapist, and writer with a passion for mission. She is the co-founder with her husband, Trevor, of New City Kids, and is completing her first children's book, I Love to Tell the Story: Stories of Meeting Jesus from Every Nation, Tribe and Tongue. Linda is a New Jersey native but now lives in Grand Rapids, Michigan with Trevor, their two children, and an overactive Siberian Husky.