Read: Joshua 2
For the LORD your God, he is God in the heavens above and on the earth beneath. (v. 11)
When Joshua and the Israelites are given the "go" from God to take possession of the promised land, two spies head to Jericho. They find shelter in Rahab's home. I wonder who was more surprised—Rahab or the spies—at this unexpected arrangement! Rahab's house was embedded in the great city wall, and therefore strategically placed for the spies' exact purpose. God chose a Gentile, a woman, known to be in prostitution, as the provider of safety and help.
Rahab the outsider, is God's unexpected provision, declaring her faith in God: "for the LORD your God, he is God in the heavens above and on the earth beneath" (v. 11). God wants every tribe, language, people and nation included in his great redemption story.
Early in my career, I worked in a ministry serving women in prostitution. My office was located where those suffering with addictions, mental illness, and prostitution felt most "at home." One morning, I arrived to find an elderly man passed out in my doorway, covered in vomit and urine. I was paralyzed. "Jesus, help me! I can't help this man on my own," I prayed. Right then, a woman in prostitution and a mentally impaired man walked up and carried the man to the health clinic next door. God's unexpected, strategic, and inclusive provision. —Linda R. Rubingh
As you pray, ask the Lord for eyes to see his unexpected provision as you go.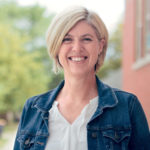 Linda R. Rubingh is a pastor, therapist, and writer with a passion for mission. She is the co-founder with her husband, Trevor, of New City Kids, and is completing her first children's book, I Love to Tell the Story: Stories of Meeting Jesus from Every Nation, Tribe and Tongue. Linda is a New Jersey native but now lives in Grand Rapids, Michigan with Trevor, their two children, and an overactive Siberian Husky.