Read: Luke 1:57-66
And fear came on all their neighbors. (v. 65)
We often miss the Bible's humor. God himself invented humor, and anyone who has ever watched a one-year-old child giggle uproariously at the silliest things senses that humor is hardwired into us. We should expect, then, to find humor in God's holy book. And today's scene from Luke 1 is funny.
Elizabeth gave birth to a son and the whole neighborhood gathered to celebrate. Everyone had long ago concluded that having children was never going to happen for this couple. So when it did, people responded with joy. At the day of circumcision, the child was to be formally named, and that was the father's job ordinarily. But Zechariah had been strangely unable to speak for nine months, so the people turned to Elizabeth. They expected her to name him Zechariah Jr., but instead, she said John. The neighbors were shocked.
So they went to Zechariah and did what we often do to people who cannot speak: we talk louder. We make gestures with our hands. The neighbors "made signs"—I imagine them pointing to Elizabeth and making rude circular "She's cuckoo" gesture around their ears, but perhaps they were more polite. Zechariah responded by writing out "His name is John" and just like that, he got his voice back.
The neighbors suddenly fell silent. Something odd was going on here. God was afoot in their neighborhood and that brought about an awestruck fear. Clearly this baby boy named John was going to be someone important to God. And they were right. —Scott Hoezee
As you pray, ask God to show you where God is working today.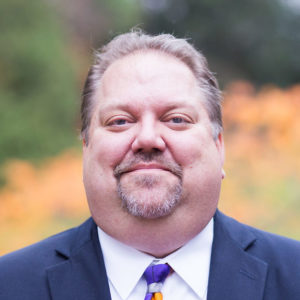 Scott Hoezee is an ordained pastor in the Christian Reformed Church of North America. He served two Michigan congregations from 1990-2005 and since 2005 has been a faculty member at Calvin Theological Seminary in Grand Rapids, Michigan, where he serves chiefly as the Director of The Center for Excellence in Preaching. He is the author of several books, including most recently Why We Listen to Sermons (Calvin Press 2019) and is the co-host of the "Groundwork" radio program.