Read: Luke 1:46-56
My soul magnifies the Lord. (v. 46)
We have been thinking about God's reversal of normal expectations the last couple of days. Now in Mary's song we spy this once again. Because what does it mean to magnify something? Well, you make it bigger, easier to see. You use a magnifying glass to take a closer look at a postage stamp or an ant. We use microscopes to magnify bacteria to make it easier to figure out certain diseases.
Mary claims that her soul is now magnifying God. But how can tiny Mary make God bigger? Doesn't God fill heaven and earth as it is? Mary's saying she can magnify God would be like someone standing at the foot of Mount Everest and saying, "I think I am going to try to make this mountain look bigger." On the face of it, this makes no sense.
Mary knew better, however. She knew that the eyes of sinful people often miss seeing God no matter how grand and big and majestic God is. But when we praise God, when we witness to God, in a sense we do make God larger if we help sinful eyes to see God's goodness and grace and grandeur after all.
God had magnified little Mary by making her the mother of God's Son. Now Mary returns the favor and through her song magnifies God. Mary should not be alone in doing this, however. Magnifying God is a holy task to which each one of us is called. Let us then magnify our great God in Christ! —Scott Hoezee
As you pray, ask the Spirit to make you God's magnifying glass every day.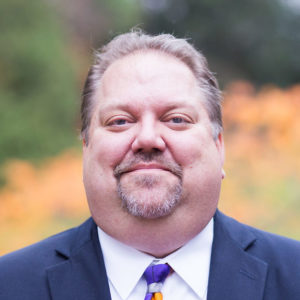 Scott Hoezee is an ordained pastor in the Christian Reformed Church of North America. He served two Michigan congregations from 1990-2005 and since 2005 has been a faculty member at Calvin Theological Seminary in Grand Rapids, Michigan, where he serves chiefly as the Director of The Center for Excellence in Preaching. He is the author of several books, including most recently Why We Listen to Sermons (Calvin Press 2019) and is the co-host of the "Groundwork" radio program.