Read: 1 Thessalonians 4:13-18
The dead in Christ will rise first. (v. 16)
It has been a long journey! My husband, Javier, has been waiting for a heart transplant for two years. This is a matter for prayer, but it's hard to pray because someone has to die for my beloved husband to receive this life-saving gift. We feel selfish asking God for a heart. Yet my husband's lack of energy, the sense of his life slipping away little by little, and the uncertainty of waiting evoke anxiety and sorrow.
The Thessalonian Christians wondered how long they would have to wait. They sent a letter to Paul expressing sorrow about those who died and didn't witness the second coming of the Lord. Paul answered, reminding them that the Lord's resurrection guarantees our glorious future. He gave the Thessalonians the gift of hope, hope in Christ's resurrection, and the confidence of new life.
We tend to focus on the length of our waiting rather than what we should focus on: confidence in God's gift of hope through Christ's resurrection. Indeed, nothing can separate us from God's love and presence. Javier and I cling to the certainty of God's grace and care amid the uncertainty of whether or not a heart will be provided. For all of us, the season of Advent is a time to lean into God's good gift of hope, knowing that in the not too far away future, we will see God face to face. —Gretchen Torres
As you pray, give thanks to God for the gift of hope and ask for peace amid the uncertainty of what lies ahead.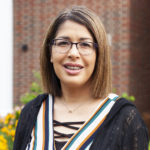 Gretchen Torres is the Administrative Assistant for Master of Theology and Hispanic Ministry Programs at Western Theological Seminary.