Read: Isaiah 9:2-7
The people who walked in darkness have seen a great light . . . (v. 2)
The devotional you are reading today was written months ago, during the uncertainty of the COVID-19 pandemic. It is a time of fear and anxiety, and my concerns about my family's health and well-being are very real. We are fighting a strong and invisible enemy, and we have no idea how long we will have to wait before we return to our normal lives. These are dark days, and I wish I could know now what things will be like when you are reading this.
Isaiah's poetic prophecy gives words of hope to Israel at the time of the exile, which was also a time of uncertainty and darkness. Things looked bleak, yet God promised to send a light that would shine on anyone living in the shadow of death. People wondered whether God would keep his promise, and Isaiah responded by announcing the coming birth of a royal son who would be called Wonderful Counselor, Mighty God, Everlasting Father, and the Prince of Peace.
While fear, panic, and anxiety may accompany uncertainty, one thing is abundantly clear: the light of Jesus shines upon us. The promised Son has been born, and, as Isaiah said, the rod of the oppressor is broken and our joy has increased. This is good news, and a sure and certain faith to hold on to in uncertain times. —Gretchen Torres
As you pray, thank God that he keeps his promises, and thank God for the gift of Jesus and a faith to hold on to in uncertain times.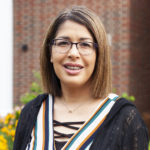 Gretchen Torres is the Administrative Assistant for Master of Theology and Hispanic Ministry Programs at Western Theological Seminary.