Read: Psalm 102
In my distress I groan aloud and am reduced to skin and bones. (v. 5 NIV)
I don't lament well, especially compared to people in some other cultures and countries, where weeping and wailing are on public display. I subscribe to a keep-it-between-you-and-your-Kleenex theology. Wipe away the tears as quickly as possible. Clean up. Get it together.
This isn't really the way I want to be, but it's what I was taught and what I'm prone to. When my first-grade-best-friend Bobby died, I sat in the back of the car and shed quiet tears by myself. When the church secretary, Mrs. Rose, was run over, we were allowed to grieve for about five minutes before the praise songs began again. "Turn that frown upside down," someone said.
The psalmists, on the other hand, teach us to lament, to grieve, to wail, and to make some noise doing it. As it turns out, lamenting is an act of hope, not resignation, longing for a better day, when the Lord returns to vindicate and bless, to rescue and restore. The psalmists give both permission and language to bring our deepest angst before a God who is more than capable of holding it all. Lament is an act of courage, of faith.
Make a mess if you need to. Live your Advent hope through messy tears and loud longings. Raise a voice, and maybe even a fist, before a God loving enough to hold it all. —Chuck DeGroat
As you pray, ask God to accept your lament and hold you in your tears.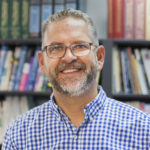 Chuck DeGroat is the Professor of Pastoral Care and Christian Spirituality at Western Theological Seminary. He is committed to spiritual and emotional formation for the sake of mission. His experience is represented in a fluid combination of pastoral ministry and seminary training for 20 years. He has served several church plants as a teaching pastor and has started two church-based clinical counseling centers. Most recently, he was a teaching pastor at City Church San Francisco, where he co-founded Newbigin House of Studies, an urban and missional training center with offerings through Western Theological Seminary.