Read: Acts 6
They could not withstand the wisdom and the Spirit with which he was speaking. (v. 10)
The Greek word for "witness" is martys. Originally, a martyr was someone who was able to testify to the truth about something. A Christian martyr was anyone who could witness to the meaning and reality of Christ's death and resurrection. It was because so many of these first Christians sealed their testimony to Jesus with their blood that the word came to have the specialized meaning it bears today. It's because Stephen was such a faithful "martyr" in the original sense that he became the first martyr in the modern sense of the word.
Stephen was a man of God, and therefore a godly man. Luke says he was full of faith and the Holy Spirit (v. 5), grace and power (v. 8), and wisdom (v. 10). In many cases, gracious people are not very powerful, and powerful people are not very gracious, but Stephen was both. Stephen's story is all the more moving because he was only the first of countless millions through the centuries who likewise have paid the ultimate price for their loyalty to Jesus Christ.
Today in many places, religious persecution continues, often with Christians as its target. Most of us reading this devotional will run little risk of martyrdom. But the gospel still needs witnesses. Are we willing to speak clearly for Jesus Christ? —David Bast (April 9, 2018)
As you pray, ask God to strengthen your faith, and the faith of all those today who face persecution for their faith.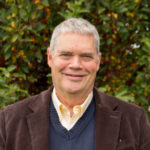 Rev. Dave Bast retired as the President and Broadcast Minister of Words of Hope in January 2017, after 23 years with the ministry. Prior to his ministry and work at Words of Hope, Dave served as a pastor for 18 years in congregations in the Reformed Church in America. He is the author of several devotional books. A graduate of Hope College and Western Theological Seminary, he has also studied at both the Fuller and Calvin seminaries. Dave and his wife, Betty Jo, have four children and four grandchildren. Dave enjoys reading, growing tomatoes, and avidly follows the Detroit Tigers.