Read: Romans 5:1-5
When the American writer Henry David Thoreau lay on his deathbed, an old aunt came to him and asked if he had made his peace with God. "Madam," he is supposed to have replied, "I was not aware we had quarrelled."
Therefore since we have been justified through faith, we have peace with God through our Lord Jesus Christ, through whom we have gained access by faith into this grace in which we now stand. And we rejoice in the hope of the glory of God. Not only so but we also rejoice in our sufferings, because we know that suffering produces perseverance; perseverance, character; and character, hope. And hope does not disappoint us, because God has poured out his love into our hearts by the Holy Spirit, whom he has given us. (Romans 5:1-5, NIV)
Have you ever seen the sea? The sea is an awesome thing. Sometimes tranquil, sometimes terrifying, always majestic, never still. In all its various moods the sea has one constant: It is ceaselessly in motion. Surging, rolling, pounding, foaming, crashing, swirling, it's always changing, always moving. Even when there's only a gentle swell on the surface, the deep ocean currents pull below. The sea is never at rest. The human heart is the same way. Skeptics like Thoreau may make flippant remarks, but the truth is: All is not well, and deep down, I think we know it. We may not be able to quite put our finger on it, but we know we're not at peace. There's a sense of disquiet, of uneasiness, of unrest. You can see it all around; just look at the way fads and styles come in and go out. We never seem to be able to settle for anything. Watch the mindless pursuit of pleasure in the young, and see how it develops into a search for happiness that grows more and more desperate as people sense they are beginning to run out of time. Listen to the disappointment in the voices of those who have tried sex or money or fame or power, only to find that nothing can really satisfy us as long as we don't make knowing God our chief concern.
Let me tell you about a man who learned this a long time ago. His name was Augustine. Born in North Africa during the last days of the Roman Empire, Augustine as a young man had made his way to Italy where he became a teacher. Brilliant, eloquent, sensual, and self-indulgent, Augustine struggled long with the weaknesses and paradoxes of his own character, while wrestling with the claims of his mother's Christian faith and the teachings of other competing philosophies. For years he wavered, unable to make up his mind what to believe, unwilling to change his life, not wanting to commit himself to faith in Jesus Christ. Then one day, restless, filled with inward conflict, he wandered out to the garden of the house where he was staying. As he sat relaxing in the shade, Augustine heard from the other side of the garden wall the voice of a child crying, "Tolle, lege; tolle, lege," "Pick up and read! Pick up and read!"—a sing-song phrase from a children's game. He glanced down at the book which lay beside him on the bench, took it up in his hands, and read these words from the page to which it was opened:
The hour has come for you to wake up from your slumber, because our salvation is nearer now than when we first believed. The night is nearly over; the day is almost here. So let us put aside the deeds of darkness and put on the armor of light.
The book in Augustine's hands that day was the book of Romans (the passage is from the end of chapter 13), and Augustine believed to the end of his life that God spoke to him directly that day, first through the child and then through the scripture. He obeyed God's Word, and he became after Paul himself the greatest theologian in Christianity's first thousand years. Many years later Augustine summed up his experience – and everyone else's experience too – in these famous words, "O God, you have made us for yourself, and our hearts are restless till they rest in you."
Since We Are Justified By Faith
Listen to what Paul says in the opening verses of Romans chapter five:
Therefore, since we have been justified through faith, we have peace with God through our Lord Jesus Christ, through whom we have gained access by faith into this grace in which we now stand. And we rejoice in the hope of the glory of God. Not only so but we also rejoice in our sufferings, because we know that suffering produces perseverance; perseverance, character; and character, hope. And hope does not disappoint us, because God has poured out his love into our hearts by the Holy Spirit, whom he has given us.
Paul has reached a sort of conclusion, an intermediate stage, in his explanation of the gospel here in Romans. He pauses at the beginning of chapter five to offer a summing up of his argument so far: "Therefore," he writes, "that is, based upon all that I have just said, since we are justified by faith . . ." This phrase "we are justified by faith" is Paul's summary of Christian teaching. It begins with the fact that the human predicament is hopeless apart from the gospel. Because of humanity's rejection of God, people are living under the wrath of God, God's righteous judgment on all evil. There is no way out through our own efforts, but God has provided a way for us to be forgiven by crediting the righteousness of Christ to us. Because Christ offered his own life on the cross as a perfect sacrifice, paying the penalty of sin, God can justly forgive anyone who trusts in him. A great exchange takes place for those who believe in Christ. He takes their sin upon himself, and they receive his righteousness. Out of his sheer goodness God counts as righteous for Christ's sake those who aren't righteous in themselves, but who have been united with Christ through faith. Now this is what it means to be "justified by faith," and that's why this little phrase is a shorthand expression standing for the whole gospel message.
What We Have
If you read verse 1 carefully you will notice that Paul is drawing a conclusion: "Since we have been justified through faith, we have" certain gifts or privileges as a result. There are inestimable benefits to believing in Christ. Foremost among them is justification itself, but other blessings follow, and Paul describes four of them here in Romans 5.
First, we have peace with God. Not "we expect to find peace," not "there's a chance we might get peace someday," not "we can have peace if we think the right thoughts," but a simple statement of fact: "we have peace." Paul's not talking primarily about our emotional state or our subjective feelings. Having peace is not the same as feeling at peace. Feelings vary widely, and depend on all sorts of things. You can feel very peaceful when you're not anywhere near to being at peace (an obvious example would be a distraught person who is calmed by tranquilizers). Or it can work the other way, so that a Christian who does know genuine peace with God might not feel that because of outward circumstances affecting his or her emotional equilibrium.
When the Bible says we have peace with God through our Lord Jesus Christ, it is stating an objective truth. It means we've been reconciled to God—the hostility, the enmity between God and us has been dealt with and put aside. Now it might surprise you to hear this. Many people find it hard to believe that God could be hostile towards anyone, or to think of him as an enemy. Isn't God supposed to be loving? Isn't the problem only on our side—that we have turned against him? But this is only part of the truth.
The Bible, which speaks so fully of God's love, is also clear about his hate—yes, God hates! God hates hypocrisy. He hates false religion, lying, cruelty—in a word: he hates sin. And the Bible says this over and over. He also loves sinners, but sinners whose sin is unforgiven lie under his wrath. We must not think of this as an emotional response on God's part, or compare it to our human relations. The enmity between God and sinners is not like the quarrels we have with each other, the products of bruised feelings and injured egos, composed chiefly of the twin ingredients of pride and prejudice. No, God's wrath is his holy reaction to sin, and it is the fact that this lies upon us in our natural state which gives rise to all the "dis-ease" in our lives.
The wonderful news of the gospel is that, just as we are justified through faith in Christ, so we are also reconciled with God. He makes peace with us, peace through the blood of the cross. We are changed from God's enemies into his friends. Not just his creatures or his servants—his friends. You can have a personal relationship with the God of the universe, you can become his friend when you are reconciled to him by faith in Christ.
The second benefit of believing is access to grace. "Through [Christ] we have obtained access by faith into this grace in which we now stand" (v. 2). Grace is a magnificent Bible word for an even more wonderful thing. It means God's undeserved favor, and we come into it through faith. Faith is crucial, it's the key. God's grace is equally available to all, for God plays no favorites. But there is a definite and particular way to receive it.
Grace can only be received through faith in Jesus Christ. Or to say it as Paul does, we can only enter the realm of God's grace by trusting in Christ. His language here is spatial, as though he is thinking of grace as a room in which we live, and faith is the door through which we come into it. A benefit of believing is that we now live by grace, under grace, inside of grace. That means we no longer have to worry about a lot of things. We don't have to keep score. We don't have to watch out for the rules. We don't have to tally up our good deeds against our bad deeds and hope we can balance the books with God. Not when we live within grace.
Joy is the third benefit of believing. Now joy is different from happiness. Happiness depends on good things happening to us; but joy is knowing that all is well since God is for us. "And we rejoice," says Paul, not just when things are going our way, but we also "rejoice in our sufferings" (v. 3) because we know how they will eventually turn out. Even though we may have to suffer because of our commitment to the Lord Jesus, we don't lose heart because we know that living through the suffering will produce endurance, and endurance confirms our character as Christians, and that reinforces our hope for the future.
Hope—that's the final benefit of believing. "We rejoice in the hope of the glory of God" (v. 2). Sometimes when I'm reading a novel, things get into such a state that I can't stand the suspense any longer. I have to find out whether the hero escapes, if the ending is happy, how the author manages to extricate the characters from the impossible situation they're in. So I cheat. I turn to the last page and see how everything turns out. It ruins the story, of course, but at least it puts my mind at ease. Let me tell you a secret. In real life, the Author has told us how it all turns out for those who belong to Christ. He's already written the last page, he's even shown it to us in the Bible, and I can tell you that skipping ahead to read it doesn't spoil the story one bit. The end of it all is glory. We have the hope of glory: to dwell in the glory of heaven, to behold the glory of God, to be ourselves made like him in his glory. And this hope is certain beyond a doubt for every believer. "Hope does not disappoint us," Paul says, "because God has poured out his love into our hearts by the Holy Spirit, whom he has given to us" (v. 5).
If we are conscious of God's love in our hearts, we may be certain that the Holy Spirit has given that to us, that he himself lives within us, and he will never leave us.
So these are the benefits of believing in Christ. Being justified-pronounced righteous by God-we have peace with him, we can live within his grace, we have joy even in the midst of difficulties, and we rejoice in the sure hope of glory. Given all this, I can't understand why anyone would not want to believe. Can you?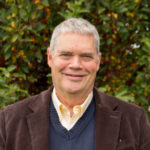 Rev. Dave Bast retired as the President and Broadcast Minister of Words of Hope in January 2017, after 23 years with the ministry. Prior to his ministry and work at Words of Hope, Dave served as a pastor for 18 years in congregations in the Reformed Church in America. He is the author of several devotional books. A graduate of Hope College and Western Theological Seminary, he has also studied at both the Fuller and Calvin seminaries. Dave and his wife, Betty Jo, have four children and four grandchildren. Dave enjoys reading, growing tomatoes, and avidly follows the Detroit Tigers.