Read: Romans 8:12-17
Those who are led by the Spirit of God are the children of God. (v. 14 NIV)
There are unspoken battles on the inside of most, if not all, of us. The apostle Paul described this: "I have the desire to do what is good, but I cannot carry it out. For I do not do the good I want to do, but the evil I do not want to do—this I keep on doing" (Rom. 7:18-19). But people who are in Christ have an obligation to be led by the indwelling Spirit (8:12). This means being empowered by God to put to death the destructive and disparaging activities of our sinful nature and to live in submission to the Lord (8:13). God offers evidence of this new internal reality and relationship: "The Spirit himself testifies with our spirit that we are God's children" (v. 16). This is the seal to our confidence as children of God; it is a confirmation that we are truly family members.
Think of this privilege, nobility, and freedom. We can make our own decisions; we are liberated to come and go; we have the right of entry to the family's resources (v. 17). That's belonging, that's freedom. This truth makes us want to do right, to please our Father.
When we're faced with trouble and fears, remember that this isn't just hope for the future, it's deliverance for the present. It's the existing and attainable power to resist sin and submit to the leading of the Holy Spirit and glorify God. —Keziah Namusaazi (Manager of Production and Broadcast, Words of Hope Uganda)
As you pray, ask God to help you understand how the Holy Spirit helps us always.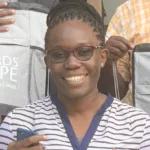 Keziah Namusaazi is the Manager of Production and Broadcast for Words of Hope Uganda.