Read: Revelation 7:9-17
There before me was a great multitude that no one could count, from every nation, tribe, people and language, standing before the throne and before the Lamb. (v. 9 NIV)
When I muse on what it will be like at last when we are with the Lord and his people, no passage sums it up for me better than Revelation 7:9-17. Here's what I find. Think first about this: Who will be there? "There before me was a great multitude that no one could count, from every nation, tribe, people and language" (v. 9 NIV)—all the redeemed ones from the whole world!
What will they be doing? "And they cried out in a loud voice: 'Salvation belongs to our God, who sits on the throne, and to the Lamb' . . . They fell down on their faces before the throne and worshiped God, saying: 'Amen! Praise and glory and wisdom and thanks and honor and power and strength be to our God for ever and ever. Amen!'" (vv. 10-12). Everything in that place is glad and grateful worship!
The people in white robes—who are they and where did they come from? The answer: "These are they who have come out of the great tribulation; they have washed their robes and made them white in the blood of the Lamb" (v. 14). That is, they are a redeemed people, made clean and pure through the atoning sacrifice of Jesus!
Joy at last! What more could any heart desire? Amen! Come, Lord Jesus! —Bill Brownson
As you pray, celebrate Jesus' atoning sacrifice and receive his gift of salvation.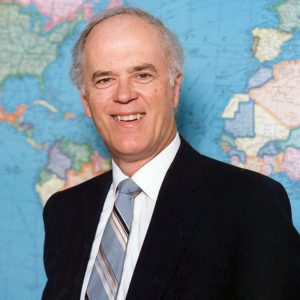 Dr. William C. Brownson was the President Emeritus of Words of Hope. Dr. Brownson served Reformed churches in Lodi, New Jersey, and Chicago, Illinois. In 1964 he was appointed Professor of Preaching at Western Theological Seminary, a position he occupied for ten years before serving at Words of Hope. In addition to a widespread speaking ministry in churches, on university campuses and at conferences, Dr. Brownson wrote extensively for the Church Herald, other Christian periodicals, and authored many books. Dr. Brownson died April 1, 2022.