Read: Revelation 5:1-14
In a loud voice they were saying: "Worthy is the Lamb, who was slain." (v. 12 NIV)
When I find myself longing to worship Jesus, to see him in the fullness of his glory, to pour out my heart to him, the vision given to the apostle John in Revelation 5 seems to me simply incomparable. Imagine this: Here we see the Lamb, surrounded by the four living creatures and the twenty-four elders. They sing of his infinite worthiness to be praised because he was slain and by his blood he has purchased us for God from every tribe and tongue and people and nation. We are now a kingdom and priests to serve our God. So here is a worshiping community from every part of planet Earth.
But that is only the beginning. Next, John looks and hears the voice of many angels "numbering thousands upon thousands, and ten thousand times ten thousand" (v. 11 NIV). And beyond that, "every creature in heaven and on earth and under the earth and on the sea, and all that is in them" (v. 13 NIV). Can you imagine hearing these songs sung by all those worshiping voices? What a marvel! And, if we trust in Jesus, one day you and I will be there, hearing it, sharing it!
And here is what everything in the universe will then be echoing: "To him who sits on the throne and to the Lamb be praise and honor and glory and power, for ever and ever!" (v. 13 NIV) Hallelujah! What an anthem that will be! —Bill Brownson
As you pray, praise Jesus, the Lamb that was slain!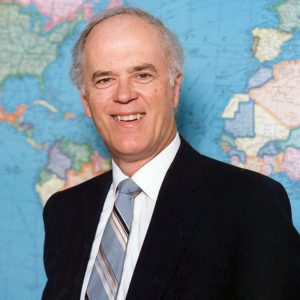 Dr. William C. Brownson was the President Emeritus of Words of Hope. Dr. Brownson served Reformed churches in Lodi, New Jersey, and Chicago, Illinois. In 1964 he was appointed Professor of Preaching at Western Theological Seminary, a position he occupied for ten years before serving at Words of Hope. In addition to a widespread speaking ministry in churches, on university campuses and at conferences, Dr. Brownson wrote extensively for the Church Herald, other Christian periodicals, and authored many books. Dr. Brownson died April 1, 2022.