Read: Philippians 3:12-16
. . . forgetting what lies behind and straining forward to what lies ahead. (v. 13)
Throughout the course of our lives, we tend to accumulate a considerable list of regrets. The end of life often brings them up again, even when we thought we had dealt with them. One man I served as a hospice chaplain had been drafted into the German army during World War II. Through tears, he shared stories of how he was forced to do things that, even seventy years later, haunted him and brought him to believe that he could never find peace. These memories were a great burden to him.
Paul had his own list of regrets. He even called himself the chief of sinners (1 Tim. 1:15 KJV). Yet he was able to say with confidence that the things of the past would stay behind him as he strained forward to reach the goal. How could Paul say that? How can I tell someone struggling with the weight of guilt that he can leave his regrets behind, find forgiveness, and receive a heavenly reward? Paul knew the key: "God has made me his own."
Nothing you may have done puts you beyond the grasp of redemption. When you face the regrets in your life, you can be confident that God's grace covers them all. Live into Christ's future, not your sorry past. Thankfully, my friend learned of God's grace and found the ability to let go of some of his regrets and find peace. In Christ, so can you! —Joel Plantinga
As you pray, give your regrets to God and lean on his grace for you.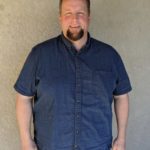 Rev. Joel Plantinga has now been in full-time pastoral ministry for more than 20 years. He serves as the Lead Pastor of Desert Winds Community Church (RCA) in Palmdale, California, and is married to Teresa with children Noah, Eden, and Rachel.