Read: Matthew 27:45-50
And about the ninth hour Jesus cried out with a loud voice, saying, "Eli, Eli, lema sabachthani?" that is, "My God, my God, why have you forsaken me?" (v. 46)
Dementia is one of the cruelest diseases. When someone experiences dementia's progression, loved ones helplessly watch memory, function, and personality slip away. On my first visit with a devout Christian woman who had cared for her husband for years, I listened as she shared all the "right words" Christians often repeat. "Where God guides, God provides." "God knows what he's doing." "His plans are best." I responded with a simple question: "Are you angry at God?" Her expression and too-quick denial betrayed her true feelings.
When Jesus gave up his life to save us, he never lost sight of his mission or wavered in his faithfulness. But he did experience the raw emotion that dying produces, including the experience of abandonment. The honest exclamation of Jesus on the cross helps us understand that he didn't escape death's deepest pain. It also encourages us to feel that we don't have to be polished when we're in excruciating circumstances.
Giving honest voice to raw feelings doesn't alienate God. In fact, such honesty usually draws us closer to God and leads to breakthroughs in our relationships with him. When I gave this woman permission to express her anger the floodgates opened and, ultimately, healing came. God longs for us to be honest with him no matter what we are feeling. —Joel Plantinga
As you pray, openly share your feelings, worries, and anger with God.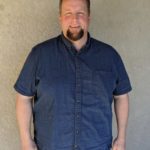 Rev. Joel Plantinga has now been in full-time pastoral ministry for more than 20 years. He serves as the Lead Pastor of Desert Winds Community Church (RCA) in Palmdale, California, and is married to Teresa with children Noah, Eden, and Rachel.