Read: Philippians 4:4-9
The Lord is at hand; do not be anxious about anything, but in everything by prayer and supplication with thanksgiving let your requests be made known to God. (vv. 5-6)
It was a very emotional scene. A terminally ill father was listening to his daughter give him permission to let go. She reassured her dad that she was going to be okay after he died. He was clinging to life for fear of what would happen to his family when he was gone. For years he had handled most of the problems and responsibilities in the house. Now he had no choice but to let go.
Worry solves nothing. It actually causes more problems and robs us of our peace and joy. It disables our ability to enjoy each moment and pushes us to dread things that are usually out of our control. Thankfully, God doesn't just tell us what not to do (worry), he also tells us what to do (pray), and gives us a promise of what we will receive as a result (the peace of God). Note that no matter what the scale of the problem we face, there are no "worry waivers." Paul exhorts us not to be anxious about anything.
When that father let go of the worry and was able to trust God with his family's future, he experienced a peaceful death. Even more, he knew the promise of God's presence for him and his family. Remember that as much as we love our families, God loves them more! —Joel Plantinga
As you pray, turn to God with the worries in your heart.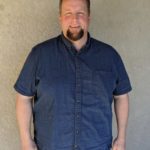 Rev. Joel Plantinga has now been in full-time pastoral ministry for more than 20 years. He serves as the Lead Pastor of Desert Winds Community Church (RCA) in Palmdale, California, and is married to Teresa with children Noah, Eden, and Rachel.