Read: Psalm 46
God is our refuge and strength, a very present help in trouble. (v. 1)
The goal of hospice is to provide physical and spiritual comfort to people who are dealing with the end of life. Sometimes a combination of family dynamics and physical factors leads to pain that is difficult to alleviate. While caregivers try to help people find comfort, we also have a "real-time God" who is intervening on our behalf. This sometimes gets lost in the daily struggles that come with end-of-life care.
I saw this firsthand with a caregiver who was struggling with her own lack of sleep and burnout, and her father's increased agitation in the end stages of his dementia. I shared Psalm 46 with her, to show her that when the storms of life rage, we can find refuge in the loving arms of God. I encouraged her to include God in the daily care routine, no matter what was happening with her dad. The daughter later shared that as she did that, people seemed to come at just the right time to give her relief and support. She attributed that entirely to God's "real-time" support and help.
While God certainly covers our eternal needs, he is also very much a part of the here and now of our lives, able to help us in all circumstances. This doesn't always make life easier, but it encourages us to know that the creator of the universe is aware and ready to intervene on our behalf today. —Joel Plantinga
As you pray, ask God to remind you of his presence in every moment.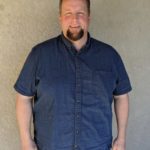 Rev. Joel Plantinga has now been in full-time pastoral ministry for more than 20 years. He serves as the Lead Pastor of Desert Winds Community Church (RCA) in Palmdale, California, and is married to Teresa with children Noah, Eden, and Rachel.