Read: Isaiah 6:1-10
In the year that King Uzziah died I saw the Lord sitting upon a throne, high and lifted up; and the train of his robe filled the temple. (v. 1)
In the year that King Uzziah died, God called the young man Isaiah to be a prophet through a remarkable vision. Though Uzziah had been an effective, godly king in the beginning, in his latter years he became arrogant, and performed religious duties assigned exclusively to priests, and as a result, became a leper until the day he died. Isaiah's naming of Uzziah here is significant, because it points to the holiness of God and the consequences of sin.
In his vision of the majesty of God, Isaiah hears angels calling to one another, "Holy, holy, holy is the LORD of hosts; the whole earth is full of his glory!" (v. 3) In this context Isaiah considers his own life and cries, "Woe is me!" (v. 5) Isaiah recognizes and confesses his own unworthiness, and God shows mercy, sending an angel to cleanse Isaiah using a live coal from the altar.
It is only then that God calls Isaiah. "Whom shall I send, and who will go for us?" Isaiah's response is immediate. "Here I am! Send me." (v. 8) What a striking picture of the gospel, as God, in Jesus Christ, takes away our guilt, atones for our sins, and sends us to live and serve in his broken world. —Gordon Van Wylen
As you pray, confess your sins and receive God's forgiveness, then ask God where he is sending you today.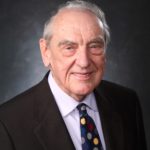 Gordon Van Wylen served as the Dean of the Engineering School at the University of Michigan, and was the President Emeritus of Hope College. Dr. Van Wylen died in 2020.