Read: Isaiah 5:1-8, 21-24
What more was there to do for my vineyard, that I have not done in it? (v. 4)
In this parable a woman of noble character sings a love song to her husband about a tragic disappointment he has experienced. He had worked diligently to build a vineyard on a fertile hillside. But alas, at the time for harvest he found only bad fruit. What a disappointment!
In this parable Isaiah presents a situation familiar to his readers. They could recognize the hard work of this vineyard owner, the investment of time and money in the property. They would feel the frustration of its poor harvest, and so also God's disappointment with the people of Judah. Having given them a homeland, a remarkable social order, a temple, a meaningful liturgy for worship, and prophets and priests to teach them, God asks, "What more could I have done for the people of Judah?" God looked for justice, but found bloodshed; he looked for righteousness but found despair.
In John 15 Jesus uses the figure of the vine to teach his followers another important truth: "I am the vine; you are the branches. Whoever abides in me and I in him, he it is that bears much fruit, for apart from me you can do nothing." (v. 5) Consider the vineyard of your life, and the fruit that God is growing there. It can only be a rich harvest if you are abiding in Christ. —Gordon Van Wylen
As you pray, ask God to help you see all that he has done for you, and share your gratitude with him.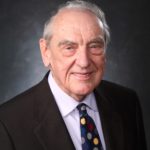 Gordon Van Wylen served as the Dean of the Engineering School at the University of Michigan, and was the President Emeritus of Hope College. Dr. Van Wylen died in 2020.