Read: Isaiah 4:2-6
In that day the branch of the Lord shall be beautiful and glorious, and the fruit of the land shall be the pride and honor of the survivors of Israel. (v. 2)
In this bit of prose using the phrase "in that day," Isaiah speaks about a future time when survivors in Israel will be recognized as holy persons who take pride in the produce of the land. They will be cleansed from sin by a spirit of judgment and fire. He describes a magnificent glory over Mount Zion and the assembled people, a cloud by day and a bright flaming fire by night (reminiscent of God's presence over the tabernacle when the Israelites left Mount Sinai). Over all this glory God places a canopy that provides a place of shelter and safety for his people.
This symbolism can help us recognize the grace of a loving God in the lives of people over the centuries since Isaiah's time. There were times of cleansing from sin and spiritual revivals in his day, first under King Hezekiah and later a major renewal when captive Jews returned to Jerusalem after exile in Babylon.
Over the centuries countless communities and cultures have experienced transformation and renewal as the gospel of Jesus Christ penetrated the lives of people. Isaiah's example shows us that this renewal is possible, both in your own life and within a country or community. If you desire this renewal, pray God's presence and guidance. May your joy abound! —Gordon Van Wylen
As you pray, welcome God's presence and guidance in your life, in your church, and in your community. Pray for renewal and healing.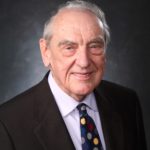 Gordon Van Wylen served as the Dean of the Engineering School at the University of Michigan, and was the President Emeritus of Hope College. Dr. Van Wylen died in 2020.