Read: Genesis 39:19-40:8
You meant evil against me, but God meant it for good, to bring it about that many people should be kept alive, as they are today. (Gen. 50:20)
Every late summer I anticipate receiving an email from the coordinator for my volunteer job at the local elementary school. However, when her communication came in 2020, instead of offering me a position, she wrote, "At this time we have to limit the number of people in the building due to the COVID-19 virus safety concerns, so we won't be able to have volunteers come in." I felt like I was sidelined from a job I loved.
Joseph was sidelined several times during his life. His brothers tried to derail him by throwing him into a well and then selling him as a slave to Egypt. Then Pharaoh's wife falsely accused Joseph causing him to be jailed for years. Despite these circumstances, God used him right where he was. The Almighty used Joseph to interpret the cupbearer and the baker's dreams, which led Pharaoh to put him in charge of a great food distribution program. God worked through Joseph to save many lives, including his family.
Joseph's story gives me hope because it points out that God is working even when we can't participate in something we used to love. When it feels like we are just biding our time, may we look for ways we can still be a witness. Joseph did that and it made a big difference. —Steven Laman
As you pray, ask God to show you ways that you can be a witness for him wherever life takes you.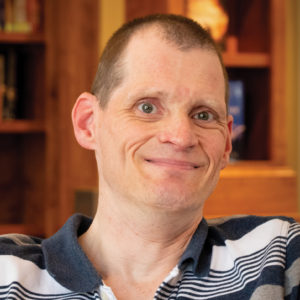 Steven Laman is a writer and public speaker who has lived with cerebral palsy since his birth in 1970. Steven is a prolific devotional writer for Words of Hope, and the author of two other books: Strength in Weakness and My Grace Is Sufficient. He also volunteers as a teacher's aide. He lives with his parents in Iowa.