Read: Deuteronomy 8:1-18
Your clothing did not wear out on you and your foot did not swell these forty years. (v. 4)
During the national shutdown in response to the coronavirus, I often woke up and wondered, "What day is it?" As the days turned into weeks and weeks turned into months, life felt like it was so mundane and ordinary. Not being able to volunteer at school, swim at the YMCA, or even go to church was difficult as life settled into a new routine that lasted a lot longer than anyone expected.
The Israelites lived through four decades of ordinary days as they trudged through the desert as God led them from Egypt to the Promised Land. The years must have gotten tiresome and monotonous as life consisted of camping and pulling up stakes whenever the cloud or the pillar of fire led them to the next camping spot. Just as they were taking possession of the land of Canaan, Moses instructed the Israelites to remember the Lord's provision for them during the ordinary days of the journey. God provided them with manna and quail to eat, their clothes didn't wear out, and their feet didn't get swollen from walking.
Hopefully, when you read this, coronavirus shutdowns are behind us. Still, all of us feel like life is mundane at times. The Israelites looked back and saw how God miraculously led them through the dull days. May we look back too and realize that God is faithful during the unexciting times of our lives. —Steven Laman
As you pray, thank God for leading you through everyday life.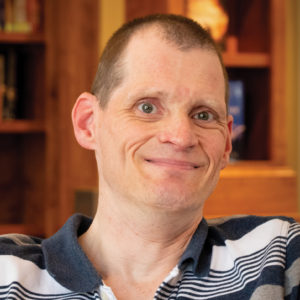 Steven Laman is a writer and public speaker who has lived with cerebral palsy since his birth in 1970. Steven is a prolific devotional writer for Words of Hope, and the author of two other books: Strength in Weakness and My Grace Is Sufficient. He also volunteers as a teacher's aide. He lives with his parents in Iowa.