Read: Daniel 2:1-24
To you, O God of my fathers, I give thanks and praise, for you have given me wisdom and might, and have now made known to me what we asked of you, for you have made known to us the king's matter. (v. 23)
All the wise men of Babylon were sentenced to be executed because they could not interpret King Nebuchadnezzar's dream. At the eleventh hour, "with prudence and discretion," the story says, Daniel requested a little more time. "What's the big rush?" he asked the executioner. That night Daniel received the dream's meaning. Imagine the relief of Daniel, his friends, and all the other wise men of Babylon!
Daniel's response is to offer a prayer of praise to the God of all wisdom. It strikes the strong note heard throughout the whole book of Daniel, that God is truly the Lord and Master of all history, of all kings and kingdoms and powers, both here and in the age to come. In the midst of chaos and danger, Daniel has complete confidence in the one true God.
This is a prayer that each of us needs from day to day, as well. When we are surrounded by chaos we can still pray Daniel's prayer of praise, because we rest in faith that God has all history, including our own personal histories, firmly in his care. To God be all praise for his mighty wisdom and power! —Leanne VanDyk
Prayer: Blessed be your name, O God, from age to age, for wisdom and power are yours. Amen.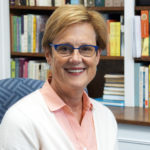 Leanne Van Dyk is a Reformed theologian and theological educator. She has focused much of her work on atonement theology and the development of theological education. She is the tenth president of Columbia Theological Seminary.