Read: Isaiah 38:1-6
"Please, O Lord, remember how I have walked before you in faithfulness and with a whole heart, and have done what is good in your sight." And Hezekiah wept bitterly. (v. 3)
Such a short, simple prayer certainly had a remarkable result. King Hezekiah was very ill. When the prophet Isaiah told him his death was near, Hezekiah turned his face to the wall and wept bitterly. He also prayed for healing. His prayer mainly reminds God of how good and faithful Hezekiah had been (as if God needed to be told!). But God brought the king back from death's door and gave him fifteen more years of life; a wonderful gift, indeed.
Why is it that such a short prayer, so focused on personal accomplishments, was heard and answered by God? Why is it that some of our prayers for healing, prayed with humble earnestness and hope, are heard but not answered by God? This is one of the most troubling mysteries of our faith.
When Hezekiah recovered, he sang a song of praise to God: "The living, the living, they thank you, as I do this day" (38:19). The challenge and call of faithful Christian living is to express gratitude and joy to God no matter what our circumstances, healthy or sick, satisfied or discouraged, in plenty or in loss. —Leanne VanDyk
Prayer: We give you praise and thanks all the days of our lives, gracious God. Help us to worship you no matter what circumstances we are in. Amen.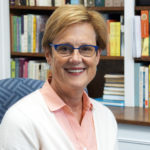 Leanne Van Dyk is a Reformed theologian and theological educator. She has focused much of her work on atonement theology and the development of theological education. She is the tenth president of Columbia Theological Seminary.