Read: Matthew 5:1-3; 7:12-14
Blessed are the poor in spirit, for theirs is the kingdom of heaven. (v. 3)
The Sermon on the Mount is not the way of salvation. Jesus' concern in the sermon is not to explain to people how they can be saved but to teach them how to live once they have been saved. Note that Jesus is talking here to his disciples (v. 1), who have already left everything to follow him (Matt. 4:18-22).
Salvation is by grace alone, as Jesus makes clear in his opening sentence. The kingdom of heaven is for the poor in spirit, not for the proud self-righteous. When we humbly come to God, bringing nothing but our sin and claiming nothing but his mercy, we will receive what we ask for (Matt. 7:7). So read the sermon not as a set of instructions on how to gain God's acceptance but as an agenda for living for those who have already been accepted.
Near the end of the sermon, Jesus speaks of a narrow gate and a hard way leading to life. The gate is faith in Christ; the way is obedience to Christ. Some people so emphasize faith they make it seem as though it doesn't matter how you live, while others stress good works to the point where you might think you qualify for salvation by your own efforts. The Bible is more balanced. Our salvation is only through faith in Christ, but real faith always turns us into followers of Christ. You can't be on the way unless you have entered through the gate, but if you enter the gate you must follow the way. —David Bast
As you pray, ask whether you're on the way.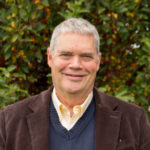 Rev. Dave Bast retired as the President and Broadcast Minister of Words of Hope in January 2017, after 23 years with the ministry. Prior to his ministry and work at Words of Hope, Dave served as a pastor for 18 years in congregations in the Reformed Church in America. He is the author of several devotional books. A graduate of Hope College and Western Theological Seminary, he has also studied at both the Fuller and Calvin seminaries. Dave and his wife, Betty Jo, have four children and four grandchildren. Dave enjoys reading, growing tomatoes, and avidly follows the Detroit Tigers.