Read: Matthew 5:43-48
And if you greet only your brothers, what more are you doing than others? (v. 47)
Disneyland is known as "The Happiest Place on Earth." They offer more than rides. They offer an experience. Everything that happens there is part of the plan to give you that experience of happiness. In a Forbes magazine article, communication specialist Carmine Gallo describes the process Disney uses in order to train their employees to be "Assertively Friendly." They will go the extra step to extend themselves to you before you ask for help.
Think about the message of the gospel. It's a message of radical reconciliation and hospitality. That we were once alienated but now have been granted access to God himself is the ultimate act of hospitality. With that in mind, how out of place is it for anyone in a church not to offer radical hospitality ourselves? The ministry of Christ's church must be congruent with the message.
I get it. We want to talk to our friends and get caught up on life. We are drawn to those we know because it's just more comfortable to be in our social circles. But remember the first time you came to your church and how out of place you might have felt. But more than that, remember how Christ extended himself to you, and offer yourself to others as a preview of that message to those about to hear it. In a cold and impersonal world, hospitality is one of our most powerful means of sharing good news! —Joel Plantinga
As you pray, praise God for his hospitality to you by grace.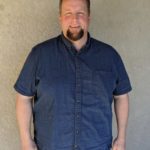 Rev. Joel Plantinga has now been in full-time pastoral ministry for more than 20 years. He serves as the Lead Pastor of Desert Winds Community Church (RCA) in Palmdale, California, and is married to Teresa with children Noah, Eden, and Rachel.