Read: Acts 2:42-47
And they devoted themselves to the apostles' teaching and the fellowship, to the breaking of bread and the prayers. (v. 42)
When I teach our church's class on financial management, I always feel a tinge of regret when I get to the lesson on investment. You learn that if you start investing $100 a month from age 18 until 67, you'll likely earn more than $1.5 million! What looks good on a chart doesn't always feel so good in the moment. "I want to do this." "I need to buy that." "I can't come up with the $100 this month; I'll do it next month I promise." These and many other thoughts derail what otherwise is a pretty sure thing in the future. In my illustration, the gap between zero and 1.5 million is devotion.
Often, the gap between much of where we are and where we want to be is also devotion, and our churches are no different. In today's text, we are awed by the miracles of the early church but often skip past the initial cause: devotion to the teaching and the fellowship.
There are valid reasons to change churches: abusive leadership, unbiblical teaching/practices, or ethical concerns to name a few. But there are also times when difficulty presents an opportunity to grow through the struggle to a deeper level of community. If an interpersonal conflict is present, invest yourself in resolution if possible. If you're struggling, embrace and engage the struggle and just see what might be around the corner. It could be beautiful! —Joel Plantinga
As you pray, seek a deeper sense of devotion from God for his church.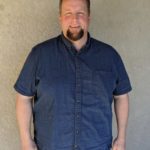 Rev. Joel Plantinga has now been in full-time pastoral ministry for more than 20 years. He serves as the Lead Pastor of Desert Winds Community Church (RCA) in Palmdale, California, and is married to Teresa with children Noah, Eden, and Rachel.