Read: 1 Thessalonians 5:16-18
Pray without ceasing, in everything give thanks; for this is the will of God in Christ Jesus for you. (vv. 17-18 NKJV)
Looking back at what we experienced in Uganda as well as around the world due to the pandemic, we have more reason to "pray without ceasing" (v. 16). Truly, it's only by God's grace and mercy that we're still here. As a country we prayed because we knew that our hope was only in God; especially looking at what was happening in very developed countries which have the resources and health care systems that we don't have in Uganda. Now that the threat has reduced, are we still praying the way we used to?
We all have times when we find it hard to pray; maybe because we are sick, exhausted, or stressed. But whatever it may be, we are urged to "rejoice always" and to "pray without ceasing" (vv. 16-17), not only when times are tough. We are also to "give thanks in all circumstances"—this is God's will for us (v. 18). Some of us become satisfied and stop praying when we experience physical blessings like wealth and success. But God's wisdom reminds us that all of these are vanity (Eccl. 1:2).
As we go through life, may prayer be our first response. A lack of prayer will cause us to depend on ourselves instead of depending on God's grace. "Watch and pray that you may not enter into temptation. The spirit indeed is willing, but the flesh is weak" (Matt. 26:41). —Charity Tumukunde (former English Program Producer, Words of Hope Uganda)
As you pray, ask God to help you rejoice in his goodness, pray for all your needs, and thank God for his faithfulness.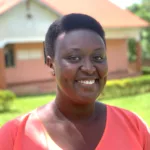 Charity Tumukunde formerly served as the English Program Producer for Words of Hope Uganda.